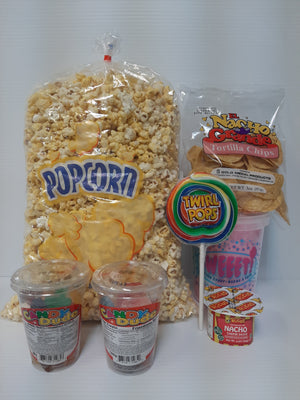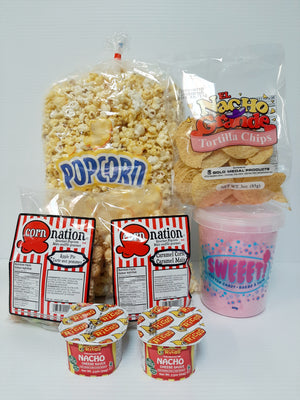 Classic treats sure to help you get through the day or to savour while you chill and watch a movie or one of your favourite shows.
You can choose a sweet or salty option and we take care of the rest.  All our options come with our delicious freshly popped movie style popcorn and the rest will satisfy your sweet or salty cravings.
Each of the 2 options includes:
1 bag of our popular Freshly popped, Movie style popcorns
1 small tub of Cotton Candy. 
Then depending on your selection, the pack will also include:
Sweet and Salty:
1x Gummy and 1x Sour Gummy
1x Rainbow TwirlPops
1x Cheese Nacho chips combo's

OR
Salty:
1x Caramel and 1x Apple Pie popcorn packages
1x Cheese pack and 2 Nacho chips pack